Barry Ollman Collections
Rock History For Sale
The rock memorabilia market booms as big-money collectors spend millions on music artifacts
by BRIAN HIATT
Originally published in Rolling Stone [mentioning Barry Ollman]
December 5, 2005—Jacaeber Kastor spent thirty seven years assembling the world's largest collection of psychedelic-rock posters: hundreds of thousands of pieces that, as time passed, he could barely afford to store, catalog and insure. Now, sitting in one of the chaotically decorated rooms that used to house his Psychedelic Solution poster gallery in New York's Greenwich Village, Kastor acknowledges that he made some foolish investments. "I lost my life savings in the stock market when it tanked in 2000," says the forty-nine-year-old former Berkeley, California, hippie. "But guess what? My posters held fucking solid as a rock. I should have put all my money into posters."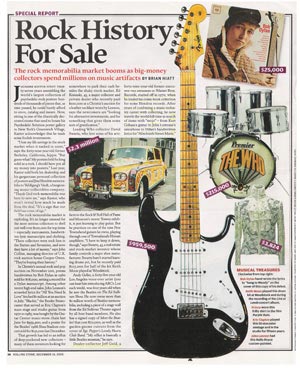 Last year, Kastor sold both his dealership and his gargantuan personal collection of posters and Jimi Hendrix memorabilia to Wolfgang's Vault, a burgeoning music-collectibles company. "Thank God, rock memorabilia was here to save me," says Kastor, who won't reveal how much he made from the deal. "It's a sign that our field has come of age."
The rock memorabilia market is exploding. It's no longer unusual for the most serious collectors to shell out well over $100,000 for top items—especially instruments, handwritten lyric manuscripts and clothing. "These collectors were rock fans in the Sixties and Seventies, and now they have a lot of money," says John Collins, managing director of U.K. rock auction house Cooper Owen. "They're buying their history."
In Christie's annual rock and pop auction on November 21st, poems handwritten by Bob Dylan in 1960 sold for $78,000, setting a record for a Dylan manuscript. Among other recent high-end sales: John Lennon's scrawled lyrics for "All You Need Is Love" fetched $1 million at an auction in July; "Blackie," the Fender Stratocaster that served as Eric Clapton's main stage and studio guitar from 1970 to 1985, was bought by the Guitar Center music-store chain last June for $959,500; and a poster for the Beatles' 1966 Shea Stadium concert sold for $132,000 last December.
That growth has led to an influx of deep-pocketed new collectors—many of them investors looking for somewhere to park their cash besides the shaky stock market. Ed Kosinski, 43, a major collector and private dealer who recently paid $210,000 at a Christie's auction for a leather necklace worn by Lennon, says the newcomers are "looking for alternative investments, and for something that gives them some sort of gratification."
Leading Who collector David Swartz, who lent some of his artifacts to the Rock & Roll Hall of Fame and Museum's recent Tommy exhibit, is just learning to play guitar. But he practices on one of the nine Pete Townshend guitars he owns, playing through one of Townshend's Hiwatt amplifiers. "I have to keep it down, though," says Swartz, 43, a real-estate and stock-market investor whose family controls a major shoe manufacturer. Swartz hasn't started learning drums yet, but he recently paid $215,000 for half of the kit Keith Moon played at Woodstock.
Andy Geller, a forty-five-year-old Los Angeles voice-over artist (you can hear him introducing ABC's Lost each week), was four years old when he saw the Beatles on The Ed Sullivan Show. He now owns more than $2 million worth of Beatles memorabilia, including a piece of a stage wall from the Ed Sullivan Theater signed by all four band members. He also has a signed copy of Meet the Beatles! that cost $70,000, as well as the garden-gnome cutouts from the cover of Sgt. Pepper's Lonely Hearts Club Band. "My office is basically a little Beatles museum," he says.
Dealer-collector Jeff Gold, a forty-nine-year-old former executive vice president of Warner Bros. Records, started off in 1970, when he traded his comic-book collection for some Hendrix records. After years of combining a music-industry career with collecting, he now travels the world full-time in search of items with "mojo"—from Kurt Cobain's guitar to John Coltrane's saxophone to Dylan's handwritten lyrics for "Absolutely Sweet Marie." "What excites me the most," he says, "is that I own part of Jimi Hendrix's record collection."
Another major-league collector, Barry Ollman, 52, of Denver, scored his first rock autographs as a child, thanks to his father, a longtime writer for Billboard. "I remember standing around talking to Frank Zappa with my dad," he says. He specializes in letters and lyrics from Dylan, Woody Guthrie and others, with a collection that includes a letter handwritten by Guthrie on fellow folk icon Leadbelly's personal stationery. Ollman also owns Hendrix's lyric sheet for "Angel" and a letter from Buddy Holly to his mother. [emphasis ours]
New York dealer Kosinski boasts one of the world's most extensive Bruce Springsteen collections. He even has the worn leather pick-guard that was on Springsteen's famous Fender Esquire guitar throughout the Seventies. "I probably have a bigger collection than Bruce himself," says Kosinski. "When he was young, artists didn't save items. Today, they realize the stuff is valuable."
Many musicians and their families—including Paul McCartney and George Harrison's widow, Olivia—have begun buying back their own stuff. "There aren't that many Beatle instruments out there, and if it's George's guitar, Olivia's gonna buy it," says Beatles collector Geller. But a lot of pieces hit the market because musicians didn't bother to hold onto them. Lennon dropped the "All You Need Is Love" lyrics on the floor of a BBC studio; they survived because an employee picked up the paper and saved it. Other items became available after artists passed them on: Lennon gave the $210,000 leather necklace to a pal, who sold it.
The first major auction of rock memorabilia took place at the Fillmore East in New York on October 12th, 1970, in a benefit that raised $15,000 for anti-war politicians. There were some bargains available that day: The fringed, tie-dyed jacket Roger Daltrey wore at that year's Isle of Wight Festival sold for $330; B.B. King's case for his guitar, Lucille, went for $40. And a notebook with Joni Mitchell's handwritten lyrics for her debut album sold for $90—less than the $200 predicted.
The market didn't heat up until a decade later. Sotheby's held its first major auction of rock memorabilia in 1981, selling McCartney's childhood piano for $16,920. In a Sotheby's auction four years later, a Canadian businessman paid $2.3 million for Lennon's psychedelic 1965 Phantom V Rolls-Royce. It is the highest price paid by a rock collector—although George Michael paid nearly as much ($2.1 million) in 1990 for the piano Lennon used to write "Imagine."
Microsoft co-founder Paul Allen kicked off an unprecedented spending spree in the early Nineties, building a collection for what would become Seattle's Experience Music Project. "I guess somewhere there was a budget, but I wasn't aware of it," says former EMP senior curator Peter Blecha, who chronicles the collection efforts in his new memoir Rock & Roll Archaeologist. Blecha paid $497,500 for Eric Clapton's Brownie guitar (the 1956 Fender Strat whose sweet tones can be heard on Derek and the Dominos' Layla and Other Assorted Love Songs) breaking a guitar-auction record Allen had set in 1991 by paying $325,000 for Hendrix's Woodstock Stratocaster.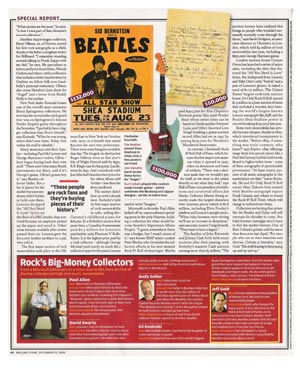 In contrast, Cleveland's Rock & Roll Hall of Fame, which became the first major rock museum when it opened in 1995, relies on donations and loans of artifacts. "There was a decision made that we wouldn't pay for stuff, so we went to the artists directly to see what they had," says Hall of Fame vice president of exhibitions and curatorial affairs Jim Henke. Collector Martin Zweig recently made the largest donation ever: nineteen pieces valued at $1.6 million, including Elvis Presley's jukebox and Lennon's upright piano. "When baby boomers start retiring we'll see an increase in donations," says associate curator Craig Inciardi. "They want to have a legacy."
The families of John Entwistle and Johnny Cash both held estate auctions after their passing, with Sotheby's massive Cash auction earning more than $3 million. "The auction houses have realized this brings in people who wouldn't necessarily normally come through the doors," says Sarah Hodgson, an associate director at Christie's in London, which sold $4 million of rock memorabilia last year, including a $550,000 George Harrison guitar.
London auction house Cooper Owen has launched a series of major sales, including the slate that featured the "All You Need Is Love" lyrics, the bedspread from Lennon and Yoko Ono's 1969 "bed-in" and a pair of Lennon's glasses. It raised a total of $1.75 million. The United States' largest rock-only auction house, It's Only Rock N Roll, earned $1.3 million in a June auction of items that included a wooden door bearing the world's largest known Lennon autograph ($51,858) and the Beatles Shea Stadium poster (a record-breaking $132,000) last year.
Some rock memorabilia has actually become cheaper, thanks to eBay, which introduced transparency to the market. "Before eBay, if something was truly common, who knew?" says Kastor. eBay offerings range from low-priced pieces like a Paul McCartney bubble-bath bottle ($190) to higher-ticket items—some of them autographs of questionable provenance. "At least ninety percent of all music autographs in the marketplace are fake," warns Kosinski. He and It's Only Rock N Roll owner Marc Zakarin have teamed with Beatles autograph expert Frank Caiazzo and others to found the Rock & Roll Trust, which will charge to authenticate items.
Collectors are betting that artists like the Beatles and Dylan will still resonate for decades to come. But baby-boomer nostalgia won't have to fuel the market forever: One of Kurt Cobain's guitars sold for more than $100,000 last April. "For people who are in their twenties and thirties, Cobain is Hendrix," says Gold. "His stuff is going to keep going up and up and up."
---
Rock's Big-Money Collectors:
From a Microsoft billionaire to a voice-over artist, here are five of the top collectors of high-end music memorabilia
Paul Allen
Who: Microsoft co-founder; billionaire
Collection: Allen paid millions to stock the Experience Music Project with more than 80,000 rock artifacts, including Eric Clapton's "Brownie" guitar (played on Layla), Bob Dylan's Martin guitar from his early days in New York and thousands of key rock posters.
Prize possession: The Stratocaster Jimi Hendrix played at Woodstock
David Swartz
Who: Investor; heir to a footwear fortune
Collection: Top Who collector Swartz owns nine Pete Townshend guitars and nine John Entwistle bass guitars. His collection also includes gold records, clothing and posters.
Prize possession: Half of the drum kit Keith Moon played at Woodstock
Andy Geller
Who: Voice-over artist for ABC television
Collection: Geller's Beatles collection is worth more than $2 million: It includes signed copies of Abbey Road and Meet the Beatles!, the earliest Capitol Records Beatles poster (with the slogan "The Beatles Are Coming") and a Vox guitar played by both Lennon and George Harrison.
Prize possession: A chunk of wall from the Ed Sullivan Theater signed by the four Beatles
Ed Kosinski
Who: Memorabilia dealer; married to the daughter of a late real-estate magnate
Collection: Kosinski has one of the world's biggest Bruce Springsteen collections, from the leather pick-guard that once covered Springsteen's famous Fender Esquire guitar to items as obscure as old datebooks and report cards. He also owns guitars from Clapton, John Lennon, Townshend and Kiss.
Prize possession: Lennon's necklace
Jeff Gold
Who: Former executive vice president of Warner Bros. Records turned memorabilia dealer
Collection: Gold, who frequently loans parts of his collection to the Rock & Roll Hall of Fame, owns instruments from Kurt Cobain, Howlin' Wolf and John Coltrane; Beatles acetates that he says include unheard alternate versions of songs; and original lyrics from the Sex Pistols.
Prize possession: Part of Hendrix's record collection (complete with Hendrix's psychedelic doodles on a Dylan album cover)
- Mark Harden